Vitella Treox
Gel for skin in various types of dermatitis
First aid in inflammatory flare-ups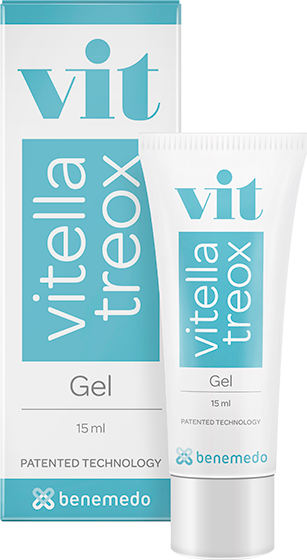 Vitella Treox gel is a medical device designed for regeneration and re-epithelisation of irritated skin during acute phases in various types of dermatitis.
Use guidelines
Apply to effected skin areas, 2-3 times a day. Use for a maximum 3-4 weeks or discontinue earlier as condition fully improves. Should condition persist, consult your doctor or pharmacist. Not intended for use for people under 15 years old.
Active Ingredients
Ozonized olive oil, Tocopherol acetate (Vitamin E), Sodium hyaluronate.
Ingredients
Glyceryl Stearate Citrate, Glyceryl stearate, Cetyl Alcohol, Ozonized olive oil, Tocopheryl acetate, aqua, Phenoxyethanol, Ethylhexylglycerin, Tetrasodium Glutamate diacetate, Sodium Hyaluronate.
Package
15 ml.
Who can use it
We recommend using Vitella Treox during the acute phase of inflammatory flare-ups and complement the care with Vitella Ictamo.
Does not contain parabens or perfume.
Before using our products on infants or small children, we recommend that you contact your local medical professional and show him our ingredients list.
How it works
The suitable combination of active ingredients accelerates regenerative processes.
Ozonized olive oil is a unique patented form of oxydated olive oil which has anti-inflammatory, anti-bacterial and anti-fungal properties. It reduces skin redness and itching and supports skin cells proliferation.
Tocopherol acetate ( Vitamin E) has anti-oxidative properties and protects the skin from the effects of free radicals. Together with the oleic acid it functions as a stabilising factor of ozone in the formula.
Sodium hyaluronate supports skin cells and tissue regeneration. It is well known for its strong moisturising properties. It softens the skin, restoring its elasticity and hydration.
Sign up for our
newsletter.


Be the first to receive news about our products and services.