Vitella U
Softening, nourishing lotion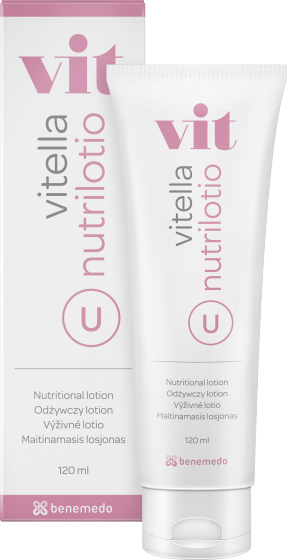 Nourishing Vitella U lotion is designed to provide regular care to dry and atopic skin. It helps protect and regenerate and in doing so helps prevent any deterioration in the condition of problematic dry skin. Developed in collaboration with dematologists.
Use guidelines
The product should be applied to the skin 2-3 times a day.
Active ingredients
Vitamin A, vitamin E, Panthenol, Urea.
Ingredients
Aqua, Paraffinum liquidum, Decyl Cocoate, Cyclomethicone, Urea, Cetyl PEG/PPG-10/1 Dimethicone, Panthenol, Hydrogenated Castor Oil, Hydrogenated Olive Oil, Olive Oil (Olea Europaea), Olive Oil Unsaponifiables, Tocopheryl Acetate, Sodium Chloride, Triclosan, Chlorhexidine Digluconate, Lactic Acid, Retinyl Acetate, Parfum.
Package
120 ml.
Who can use it
Vitella U is a suitable skincare product for those suffering from atopic eczema or psoriasis, whether children or adults. It is also appreciated by people whose skin tends to dry out, crack, itch or sting, whose skin is flaky and susceptible to damage or irritation or indeed inflammation.
Before using our products on infants or small children, we recommend that you contact your local medical professional and show him our ingredients list.
How it works
Vitella U contains urea, vitamins A and E, panthenol and olive oil ingredients. Urea is a natural part of the outer layer of the skin that nourishes and regenerates. Atopic and dry skin has fewer urea molecules, however, meaning that it needs to be supplemented from outside using care products. Urea also has keratolytic properties, which means that it helps remove flakes of dead skin, softens it and makes it smoother.
Vitamin A promotes skin regeneration and improves the resistance of the skin to infection. Vitamin E acts as an antioxidant and as such plays an important part in the fight against damage caused by free radicals. It increases the elasticity and resistance of the skin and acts against ageing.
Panthenol helps regenerate strained skin and keep it looking young by promoting collagen production. Vitella U should be used regularly, best of all in the morning and evening. It can be applied to the skin anywhere on the body. Does not contain parabens or preservatives.
Sign up for our
newsletter.


Be the first to receive news about our products and services.