Vitella Versi
Gel for treating Pityriasis versicolor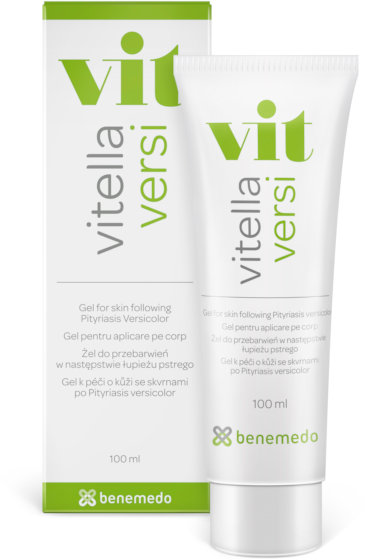 Vitella Versi dermatological gel is intended for skin care all over the body. It heps deal with skin troubles mainly caused by yeast cells. The main problems in question are Pityriasis versicolor (Tinea Versicolor) and Seborrhea (seborrheic dermatitis).
Developed in collaboration with dematologists.
Use guidelines
Apply to the affected area once a day. Rub into the skin (1-2 minutes). Before using the product, we recommend washing the skin with Mediket Versi shower gel. Use Vitella Versi for a period of 3-4 weeks and then Mediket Versi for another 4-5 weeks.
Active ingredients
Octopirox, Ichthyol pale.
Ingredients
Aqua, Olea Europaea Fruit Oil, Phenoxyethanol (and) Ethylhexylglycerin, Carbomer, Piroctone Olamine (Octopirox), Triethanolamine, Sodium Shale Oil Sulfonate (Ichthyol Pale), Climbazole.
Package
100 ml.
Who can use it
Use Vitella Versi to deal with skin problems associated with Pityriasis versicolor. We recommend using Vitella Versi gel together with Mediket Versi shower gel from the Mediket range, which cleans the skin and scalp of people suffering from dermatological problems (www.mediket.ch).
In contrast to Mediket Versi shower gel, however, Vitella Versi body gel remains to work on the skin and is washed off the next time you wash.
Before using our products on infants or small children, we recommend that you contact your local medical professional and show him our ingredients list.
How it works
Vitella Versi contains octopirox and ichthyol pale, which together with other ingredients provide considerate skin care and eliminate the occurrence of Pityriasis versicolor (Tinea versicolor). These substances also prevent itchy skin during skin problems, for example during seborrhea or atopia. Octopirox limits increased production of yeast cells and bacteria, which in larger quantities can lead to the occurrence of flaky patches on the skin and other problems. Yeast cells (malassezia furfur or pytirosporum ovale) also cause dark or light marks on the skin during pityriasis (tinea). Ichthyol pale acts as an anti-inflammatory, anti-proliferative and anti-bacterial agent and reduces the production of skin grease. When used regularly, Vitella Versi lightens dark patches on the skin. White patches disappear when sunbathing when the gel is used regularly. The product has been dermatologically tested.
N.B. We recommend consulting a dermatologist if you suspect you have a dermatological disease. The same applies if the marks on your skin do not disappear.
Sign up for our
newsletter.


Be the first to receive news about our products and services.