Vitella Extreme
Protective vitamin ointment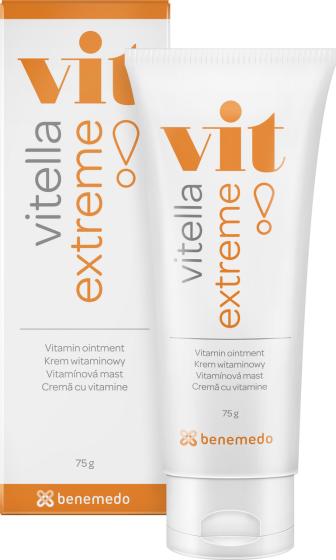 Vitella Extreme protective vitamin ointment is for use on dry to very dry skin which aids skin regeneration. It creates a protective lipid layer and helps prevent skin dehydration. It also protects the skin from the effects of extreme weather conditions and physical exertion. Vitella Extreme can be used on the face, hands, feet, elbows and knees.
Developed in collaboration with dematologists.
Use guidelines
Use Vitella Extreme on dry skin several times a day.
Active ingredients
Vitamin A, Vitamin E and Calcium.
Ingredients
Petrolatum, Paraffinum Liquidum, Calcium Carbonate, Tocopheryl Acetate, Retinyl Acetate.
Package
75 g.
Who can use it
Use Vitella Extreme vitamin ointment if you suffer from atopic skin that tends to crack, itch or sting. This type of skin can also become very dry, something that is associated with many dermatological diseases, such as atopic eczema or psoriasis. You should also have this product to hand when your skin is exposed to adverse weather conditions, such as frost, rain or dry air, or when it has come into contact with detergents and cleaning products.
Vitella Extreme is also suitable for nursing babies and young children. It has proven itself as a barrier cream against severe weather and for use in long-term care for certain infant dermatoses.
Before using our products on infants or small children, we recommend that you contact your local medical professional and show him our ingredients list.
How it works
Vitella Extreme has zero water content and is of a greasy substance. This makes it ideal for protecting the skin in cold and frosty weather. Ingredients include calcium and vitamins A (retinol) and E (tocopherol). Vitamin A promotes skin regeneration and improves the resistance of the skin to infection.
Vitamin E acts as an antioxidant and as such plays an important part in the fight against damage caused by free radicals. It improves the elasticity and resistance of the skin and acts against ageing. Calcium is a mineral substance that is important in supporting the healing of small cuts and grazes. The ointment is void of parfumes, parabens and preservatives.
Sign up for our
newsletter.


Be the first to receive news about our products and services.