Vitella Ictogel
Cleansing gel for acne prone skin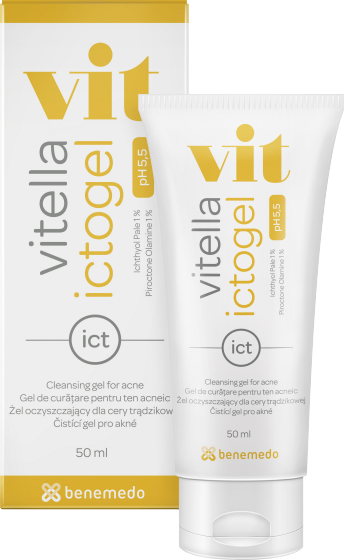 Vitella Ictogel, a cleansing gel intended for everyday cleansing of greasy skin suffering from either acne, black spots, white and red blisters or inflammations.
Developed in collaboration with dematologists.
Use guidelines
Use twice daily on wet skin. Allow to act for 1-2 minutes (no longer). Rinse thoroughly after this time. Consult a doctor or pharmacist in case of irritation.
Active ingredients
Ichthyol Pale & Octopirox.
Ingredients
Aqua, Sodium Laureth Sulfate, Cocamidopropyl Betain, Cocamide DEA, Polyquaternium-7, Piroctone Olamine (Octopirox), Propylene Glycol, Sodium Laureth Sulfate, Glycol Distearate, Cocamide MEA, Laureth 10, Sodium Shale Oil Sulfonate (Ichthyol Pale), Lactic Acid, Sodium Chloride, Parfum, Polysorbate-20, Linoleic Acid, Benzyl Alcohol, Methylchloroisothiasolinone, Methylisothiasolinone.
Package
50 ml.
Who can use it
Vitella Ictogel is designed for adolescents and adults who suffer from some form of acne. This dermatological condition usually causes excessive production of grease from the sebaceous glands and related hair follicles. This results in blocked pores, the production of black spots and light or red blisters (comedones).
The product can also be used by patients with more severe forms of acne that generally suffer from skin inflammations on the face, on the back and on the chest.
Before using our products on infants or small children, we recommend that you contact your local medical professional and show him our ingredients list.
How it works
Vitella Ictogel contains ichtyol pale and octopirox. These are substances that help soothe and regenerate problem areas. Ichthyol pale acts as an anti-bacterial and anti-inflammatory agent, restricts the growth of yeast cells and reduces the production of skin grease. Also eases inflammation and itching.
The high level of effectiveness of these substances also reduces the likelihood of scars remaining after acne. Vitella Ictogel cleaning gel should be used as part of your daily hygiene routine, with a small amount of the gel being applied to wet skin and lathered. The skin is then rinsed thoroughly and dried.
Sign up for our
newsletter.


Be the first to receive news about our products and services.