Vitella Nose
A soothing cream for use around the nose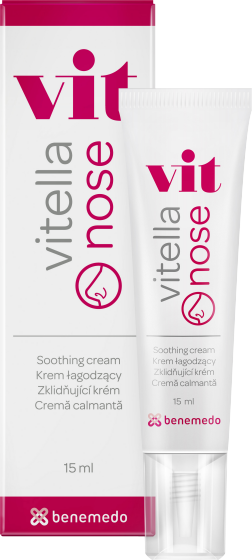 Vitella Nose soothing cream is intended to treat irritated skin around the nasal area. It is mainly used when suffering from a cold. Frequent blowing and wiping of the nose causes irritation and the reddening of the skin, drying it out which may result in small cracks or grazes.
Use guidelines
Apply Vitella Nose to the irritated skin around the nose several times a day.
Active ingredients
Vitamin A, Vitamin E, Calcium and Essential Oils.
 Ingredients
Petrolatum, Paraffinum Liquidum, Calcium Carbonate, Zinc Oxide, Eucalyptus Globulus Leaf Oil, Tocopheryl Acetate, Pinus Sylvestris Leaf Oil, PEG-35 Castor Oil, Mentha Piperita Oil, Retinyl.
Package
15 ml.
Who can use it
Vitella Nose can be used by children and adults from the very first day of experiencing cold symptoms. Can also as preventative care to the skin around the nose.
Before using our products on infants or small children, we recommend that you contact your local medical professional and show him our ingredients list.
How it works
Vitella Nose soothing cream contains vitamins A and E, calcium, zinc and essential oil. Vitamin A promotes skin regeneration and improves the resistance of the skin to infection. Vitamin E acts as an antioxidant and as such plays an important part in the fight against damage caused by free radicals. It increases the elasticity and resistance of the skin and acts against ageing. Calcium is a mineral substance that is important in supporting the healing of small wounds and grazes. Zinc is a component part of the enzymes that help heal the skin (among other). The product should be used several times a day. It is important for the skin not to dry out.
Sign up for our
newsletter.


Be the first to receive news about our products and services.