Vitella Vein
Gel for spider veins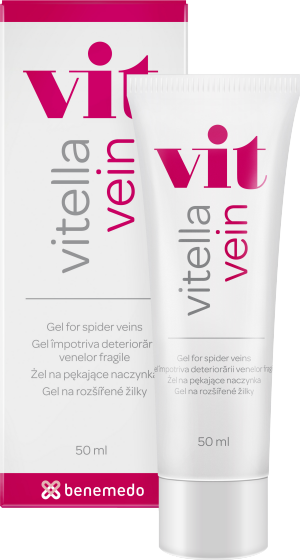 Vitella Vein is a dermatological gel designed to deal with problems involving spider veins and thread veins, mostly on the legs. The presence of these indicates the reduced elasticity of vein walls, which could lead to the more serious condition of varicose veins if left untreated. The ingredients in the gel help prevent this problem arising.
Developed in collaboration with dematologists.
Use guidelines
Use 2-3 times a day a for a period of 6-8 weeks. To achieve the best effect, apply the gel to warm, wet skin, when the pores are open (after taking a shower or a bath). The gel is absorbed quickly and leaves no marks on the skin.
Active ingredients
Rutin, Centella Asiatica extract, Essential Oils.
 Ingredients
Aqua, Propylene Glycol, Melilotus Officinalis Extract, Betula Pendula Twig Extract, Ruscus Aculeatus Root Extract, PEG-35 Castor Oil, Triethanolamine, Carbomer, Centella Asiatica Extract, Rutin, Citrus Limon Leaf Oil, Cupressus Sempervirens Leaf Oil, Vaccinium Macrocarpon Fruit Extract, Parfum, Phenoxyethanol, Ethylhexylglycerin.
Package
50 ml.
To be used for
Spider veins
Thread veins
Who can use it
Use Vitella Vein when small, often interwoven groups of small blood vessels appear on the legs just beneath the surface of the skin. Thread veins and spider veins are usually red, blue or purple and occur as a result of the weakening of the vein walls. Genetics, lifestyle and occupation all play a part. You are at risk if you have to stand for long periods of time at work. Pregnant women and women having gone through menopause, when hormonal fluctuations are to blame, are also at risk. In these cases it is a good idea to use Vitella Vein as a preventative measure.
Before using our products on infants or small children, we recommend that you contact your local medical professional and show him our ingredients list.
How it works
Vitella Vein contains rutin, which strengthens the walls of small blood vessels. Another ingredient is Centella asiatica plant extract, which acts to prevent the ageing of the skin and stimulates the synthesis of hyaluronic acid. Lavender, cypress and citrus essential oils, together with active plant extracts, reduce skin irritation and increase the elasticity of blood vessel walls. Other active ingredients help regenerate the skin, improve blood vessel elasticity and blood micro-circulation. The gel does not contain parabens or preservatives.
Sign up for our
newsletter.


Be the first to receive news about our products and services.